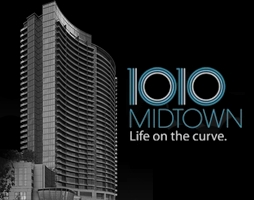 Dramatic design. Unbelievable views. Amazing curves. This tower's graceful shape mimics the natural curve of Peachtree, to create stunning views both inside and out. It's 1010 Midtown, on Peachtree at 12th. These signature residences push the possibilities and shatter the status quo. It's the most thrilling curve in Atlanta) and it will take your breath away the moment you see it.
There's no missing this curved architectural wonder. Precisely in the middle of Atlanta's most eclectic scene, the sun's rays reflect off 35 bold stories of elegant high-rise living. 1010 Midtown is a monument. It's a marvel - and now, it can be your home. The look. The style. The scene. This is where Atlanta's 14-block Midtown Mile defines itself with flagship retail, signature residences, luxury hotels, and elegant office towers.
Streets buzz with life as people bustle to business meetings, savor gourmet lunches, and soak in the diverse culture. Generous sidewalks, vibrant storefronts, outdoor cafés, and an array of shops ranging from eclectic boutiques to international fashion houses are just some of the things you will find here. It all comes together at 12th & Midtown for the South's most dazzling new district. And with a home at 1010 Midtown, you can live in the middle of it all.
Introducing 1010 Midtown, Atlanta's most anticipated new high-rise development located between 11th and 12th on Peachtree. Enhancing the skyline with its unique, curved design, 1010 Midtown will offer 443 signature residences towering 35 floors above a dynamic mix of flagship retail and restaurants. Midtown is Atlanta's premier destination for culture, shopping and entertainment, and with a home at 1010 Midtown, you can live in the middle of it all. Construction is underway and the first homes will be available in the fall of 2008.
1010 Midtown is a 35-story, 630,000-square-foot mixed-use development featuring 441 high-rise condominiums and 38,000 square feet of retail and dining space. The two-acre site is located on Peachtree Street between 11th and 12th streets. Construction for 1010 Midtown is slated to begin August 2006 with the first homes available in the fall of 2008 and retail opening in early 2009. 1010 Midtown's upscale design will attract sophisticated buyers - from young professionals to empty nesters. Both will be attracted to 1010 Midtown's luxury living in a central location. One-, two-, and three-bedroom floor plans with magnificent views will feature 10-foot ceilings, hardwood floors, stainless steel appliances, stone baths and large balconies. Residents will also enjoy resort-inspired amenities, including a state-of-the-art fitness center, clubroom, swimming pool, and private deck-top plaza with panoramic views of the downtown skyline.