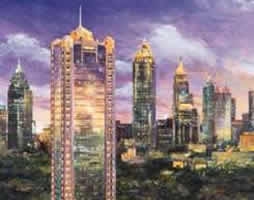 Designed by the prestigious architectural firm of Womack + Hampton, 2828 Peachtree is both an address (in the center of the Buckhead community) and the name of a 32-floor condominium building that is both modern and luxurious.
Opened in July 2002, 2828 Peachtree has a maximum of four condominium homes on each floor, with a total of 79 condominium homes. Each home is designed with walls of ceiling to floor windows and a private covered balcony that provide amazing views. There are five floors of covered garage parking and two high-speed elevators.
2828 Peachtree is landscaped with attention to detail and season and is complemented by the green laws of its neighbor to the south, The Cathedral of St. Phillip. At the center of the courtyard at 2828 Peachtree is a large architectural bowl and sphere fountain, which is lighted at night and at all times beautifully punctuates the luxury of 2828 Peachtree. Guests and residents are greeted in the lobby by a courteous and helpful concierge staff twenty-four hours a day, seven days a week.
Numeous amenities and security features are made available at 2828 Peachtree. The common areas available to residents of 2828 Peachtree include the sixth-level terrace gardens and swimming pool, Cabana lounge room with catering kitchen, and Library meeting room. The sixth-level amenities also include a fully-equipped fitness room. The Lobby, Cabana room and Library of 2828 Peachtree are all WiFi enabled.
2828 Peachtree also provides for high-level security both inside and outside the building, with digital security cameras, gated covered parking garage, and elevator security control system.