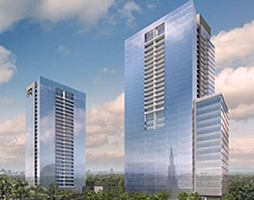 Welcome to 3630 Peachtree. 3630 Peachtree was concepted by four exceptional developers with one extraordinary vision - to create Buckhead's premier mixed-use development. Here, you'll discover stately 1, 2, 3-bedroom and penthouse homes, all with open, spacious floorplans; premium, home finishes and features; and large, private balconies offering stunning views of Downtown, Midtown and Buckhead.
Buckhead's Finest Address. This elegant, crystal-faced development boasts street-level office and retail space, as well as sophisticated residences - all conveniently located between cosmopolitan Buckhead and established, residential Brookhaven. Atlanta's finest shopping, dining and cultural destinations, including Phipps Plaza and The Ritz-Carlton Buckhead, are all within walking distance. And, 3630 Peachtree offers unmatched accessibility to Peachtree Road, Peachtree-Dunwoody Road, Wieuca Road and Georgia 400.
Five-Star Amenities. From the moment you step into our inviting private residential lobby, you will know that you are somewhere exceptional.
Welcome to 3630 Peachtree, Buckhead's most notable urban vertical mixed-use development, 3630 Peachtree will combine premium Class office space and luxury condominiums in two elegant glass towers located at the nexus of Buckhead and Brookhaven.
The sites accessibility is unmatched by other in-town developments with live points of ingress/egress onto Peachtree, Peachtree Dunwoody and Wieuca Roads as well as Phipps Boulevard featuring Buckhead's Finest Amenities Within blocks of Atlanta's most notable retail, dining and hotel destinations, unobstructed views, all located in an exceptional atmosphere.
The 925,000-square-foot development encompasses a 36-story south tower, facing Peachtree Road, with 425,000 square feet of Class A and commercial office space co-developed by Pope & Land and Duke Realty. Post Properties' 71 luxury condominium residences rise above, occupying 230,000 square feet, including two spectacular penthouse levels. Condominiums range in size from 1,700 to 3,000 square feet and are priced from $650,000 to more than $1 million.
The 29-story north tower, simultaneously under development by Novare Group, includes 275,000 square feet of space comprising approximately 200 upscale residential condominiums. These homes average 1,700 square feet in size.
"This is our company's debut into Atlanta's urban real estate market," said Kerry Armstrong, senior vice president, office group - Atlanta, Duke Realty Corporation. "The project represents an exceptional opportunity for Duke as we expand our platform and portfolio."
"A number of factors distinguish this project from other planned developments in the area," said Tom Senkbeil, executive vice president and chief investment officer of Post Properties.
"The towers' unobstructed views provide one of the city's finest panoramas," commented James Borders, president and chief executive officer of Novare Group, who describes this residential tower as "an ideal location for professionals who enjoy an intown lifestyle."