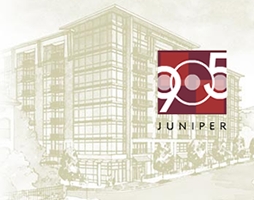 905 Juniper is an eight story condominium located in the heart of Midtown Atlanta. 905 Juniper is a mixed-use development having 2,000 square feet of retail on the ground floor at the southeast corner.
905 Juniper replaced an existing two-story apartment buildings on the site, and has a total of 117 units, with 75 studio and one-bedroom units and 35 two-bedroom units. Four of the units will be two-story live/work units facing Juniper and three will be walk-up townhouse units.
The 8-story, 125,000 square foot building will have a courtyard amenity deck with a pool and fitness center that will be located atop its parking deck. It will be located at the southeast corner of 8th St. and Juniper St. in the heart of Midtown, a block north of the Dakota Condominiums.
905 Junipers exterior is a combination of brick and glass with stucco accents. Exterior balconies and terraces will be a prominent architectural feature.