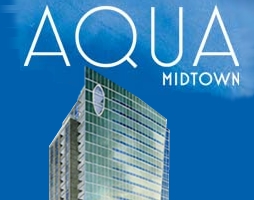 Aqua Midtown is located at the southwest corner of West Peachtree and 10th streets in Midtown. Aqua stands 24 stories tall with 83 condos. The building also includes 3,400 square feet of retail space on the ground floor. The building features one, two, and three bedroom condos.
The condos feature an average of 1,800 square feet of living space, larger than the typical Midtown floor plan.
According to an article published in September 2005 by the Atlanta Journal-Constitution, Tivoli Properties plans to build Aqua as a luxury building "with a flavor of South Florida." Individual units will have direct access by elevator. The developer told the newspaper that Aqua will target an older, more affluent market that currently is more inclined to shop in Buckhead.
Aqua is a bold architectural statement for the Midtown community bringing dynamic South Beach-style and extensive concierge services to Midtown Atlanta. The north façade presents a large floating Aqua colored glass sail and an oval cut-out exposing a glimpse of several penthouse unit balconies. The 83-unit, high-rise residential complex includes private elevators for each luxury unit and six spectacular penthouses located on the top three floors. The main lobby houses a commissioned sculpture with a custom water wall that enhances the adjacent warm wood and stainless accents.