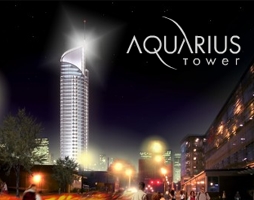 Hovering above Atlanta's urban pulse,  Aquarius Tower epitomizes the quintessential city lifestyle, offering open, casual loft living and refined European aesthetics.  Situated in the heart of downtown Atlanta,  Aquarius Tower offers a sense of belonging within a vibrant, exciting and safe environment.  Just one block away from Centennial Olympic Park, this inspiring condominium tower provides the perfect setting for those who enjoy city life to live, work, and play.
Conveniently and strategically situated at the intersection of Luckie Street and Ivan Allen, Jr. Boulevard, and soaring 500 feet into Atlanta's skies, Aquarius Tower offers unique, unobstructed, breathtaking views of Centennial Olympic Park and the city's scenic architectural backdrop beyond.
Residents and visitors alike will enjoy the enhanced quality of life in this distinctively elegant high-rise, from the residential units' top of the line amenities to the signature private pool clubhouse overlooking the city.
Redefining Atlanta's skyline,  Aquarius Tower operates on a level of abstraction that permits multiple readings, reflecting the diversity of the area and the city as a whole.
The eloquent, visionary building, fashioned of light and grace, is at once a towering mast, a billowing sail, and a providential lighthouse, acting as a counterpoint to Georgia Aquarium's adjacent ship-like structure.
From the state-of-the-art underground automated parking to the solar panels and wind turbines that crown this 21th Century landmark, Aquarius Tower is an exercise in forward-thinking, high-tech, sustainable architecture - a tribute to this young city's energy and future.