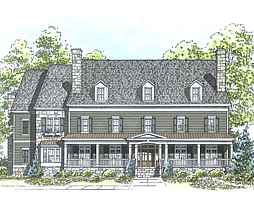 Broadwell House is located in the heart of Crabapple. The buildings graceful vernacular design is complementary to its immediate surroundings and to the Crabapple area in general. Each condominium consists of approximately 2,200 ft of heated area, all on one level, plus ample exterior porches. In addition, there is a limited amount of secure covered parking as well as elevator access. Broadwell House is unique in that it offers a highly appointed one level living option in the very desirable and walkable Crabapple area.
Broadwell House features 6 condominium homes consisting of 3 stories on top of a secured garage. Each home at Broadwell House is assigned one covered parking space and one uncovered parking space. Guest parking is available as well. Convenient elevator access is available from both parking areas. Each home has 3 walls of windows and does not have any shared walls. In addition to the highly appointed interiors, all of the homes at Broadwell House have quality exterior spaces as well. These outdoor areas include Ipe (aka Ironwood) floors and gas fireplaces. Each condominium will consist of approximately 2,200 square feet of heated area.
Broadwell House is located within the master planned community Crabapple Station and on an attractive pond which is in the middle of the community. Crabapple Station is almost totally built out, and it consist of a combination for single family homes and townhomes. Broadwell House will be the only building of its kind in Crabapple Station. When completed Broadwell House will be within walking distance to: numerous restaurants and shops, a new library, Milton High School, Northwestern Middle School, and Crabapple Crossing Elementary School.