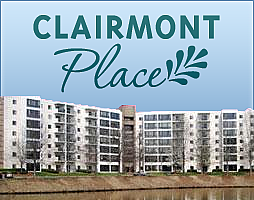 Clairmont Place is a senior condominium retirement community designed to provide the services and amenities that will enrich your lifestyle. Situated on its own private lake in a beautiful park like setting, Clairmont Place is conveniently located just off Clairmont Road in the highly desirable Decatur/Emory area of greater Atlanta. At Clairmont Place residents experience the benefits of home ownership without the day to day chores so often associated with a house.
With condominium ownership, Clairmont Place is a different concept in senior living where residents exert ownership control of their community and its operation through participation in the Condominium Association and an elected Board. In addition, low staff turnover contributes to the feeling that you have joined a "family" at Clairmont Place.
Since 1989 Clairmont Place has been chosen by discerning seniors who are seeking the peace of mind and the financial benefits that come from home ownership. Clairmont Place residents believe in the soundness of investing in their retirements through ownership and not spending their money on rents.
Located in the highly desirable Decatur/Emory area of Atlanta, Clairmont Place offers an opportunity for seniors to enjoy an active lifestyle in a safe, amenity rich environment tucked away inside 16 acres of park-like land on a private lake. Clairmont Place offers a variety of floor plans as well as the benefit of an assisted living "neighborhood" should a change dictate that need.
Should a Clairmont Place resident's health change cause the resident to need assisted living services, residents can move into an onsite assisted living facility, called The Montclair, where their personal care needs can be met for an all inclusive rate. The Montclair also welcomes residents who move directly into our assisted living community from the outside who may not be healthy enough for independent living.
Discover the advantages of ownership and invest in your future. Clairmont Place is a sound investment in both yourself and your financial legacy.