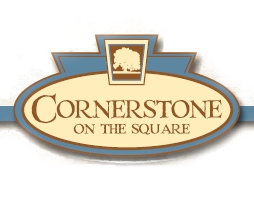 Cornerstone On The Square has all the charm that is Historic Downtown Lawrenceville. Here, upscale city living meets small-town charm in an exclusive community of luxuriously outfitted condominiums, townhomes and courtyard residences. Without compromise, Cornerstone On The Square serves a lifestyle that desires the best of both worlds.
Cornerstone On The Square encompasses an exclusive community of condominiums and townhomes located in Historic Downtown Lawrenceville. Complete with upscale, low-maintenance amenities, this traditionally designed development encourages a small-town feel with the sophistication demanded by today's discriminating homeowner.
Cornerstone On The Square Condominiums: Ranging from 1,509 to 1,612 square feet, each home comes with two parking spaces, and features two covered balconies and views of the Historic Square or Courtyard. They are located on the 2nd and 3rd floor above the 1st floor retail in the main building at the corner of West Crogan and Culver Streets.
Cornerstone On The Square Townhomes: Ranging from 1,931 to 2,405 square feet, these three-story Townhomes are available in four unique floorplans and feature 9' and 10' ceiling heights. They are located along Culver and Luckie Streets with extensive front porches.
Cornerstone On The Square Courtyard Homes: Ranging from 2,612 to 2,762 square feet, each of these Courtyard Homes has a two-car garage, private elevator and overlooks the community green space.