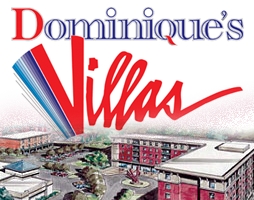 A True Village Environment of Luxury Townhomes and Condominiums in Decatur, Georgia.
In today's time, space and energy-sensitive world, Dominiques Villas presents a smart way to live and work. Dominiques Villas offers homeowner an opportunity to play at the community club house; to work out a sweat at the fitness center; Jog or bike on the 24/7 lighted and camera-surveilled walking pathway. While you're there, dine at a white tablecloth restaurant, or browse through shops and boutiques - all within walking distance of your new townhome or condominium. Join us now for a walk through Dominique's Villas - your new LIVE/WORK/PLAY home. Welcome home!
Dominiques Villas features craftsman-style town-type villas and condominiums. Each artfully set in a mixed-use 10-acre gated LIVE, WORK, PLAY community on Covington Highway in historic Stone Mountain, Georgia.
At Dominiques Villas you'll be able to take pride not only in a truly special home, but a prestige ground-floor business address as well, if you choose.