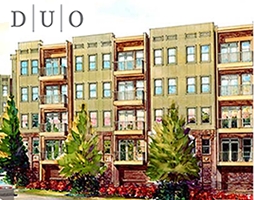 Duo, a pair of loft-inspired condominiums offer residents ready access to the vibrant art galleries, restaurants and stores now filling Atlanta's historic Castleberry Hill district, just blocks away from the Georgia Dome and Centennial Olympic Park.
The 80 homes at Duo also will be within easy reach of the many bustling offices, fine restaurants and exciting entertainment venues downtown, including Phillips Arena, the Georgia World Congress Center and the new Georgia Aquarium.
"We chose to build in Castleberry Hill because it's a very eclectic neighborhood, and it's a good fit for the type of residents who'll appreciate Duo," said Scott Leventhal, the developer of Duo. "We love the location, too. It's on the border of downtown with great accessibility to Atlanta's attractions and entertainment. Plus it's just a really interesting, fun part of town."
"We're very excited about the warm reception that the neighborhood has shown us," Leventhal said. "Current residents and business owners have shown a lot of excitement for the property and have given us a warm reception early on."
Duo offers residents features and amenities that are comparable to a condo in Midtown or Virginia Highlands, but at $30, $40 or $50 less a square foot - giving buyers a real opportunity to get more for their money, with features that are atypical in the Atlanta marketplace. And, with affordable down payments, homes at Duo are primed for a fast sell-out.
Several of the community's high-impact amenities include exotic granite countertops, metal-panel ceilings, stainless steel appliances and hardwood floors. Other amenities include gated access, covered parking, a dog walk area, a fitness center and swimming pool.
"The quality of the product fits into our portfolio well - it's a New Urban design with features that are hard to come by for many of our entry-level buyers," Leventhal said. "It also gives buyers more than what they think they can afford. Our developments offer exceptional and striking features and amenities for the benefit and enjoyment of our residents."