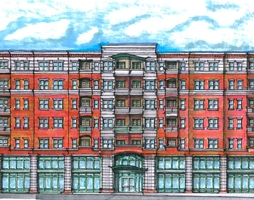 Emerson Overlook is the place to live with its ideal location in the heart of Marietta's downtown trendy and growing redevelopment area. Taking part in the New Urbanism era, this unique structure will be built at the corner of Roswell Street and Coryell Street, only three walking blocks to the Square and right beside the library.
Emerson Overlook is a centerpiece in the redevelopment of this historic area being the first new construction offering luxury condominiums within walking distance to the restaurants and shops in the downtown Square.
Emerson Overlook is a seven story, mixed use development will include about 30,000 square feet of ground floor retail or class A office space, 37 luxury condominiums ranging in size from 1100 to 4000 square feet and over 200 parking spaces.
Small towns across America are moving into a new urbanism era. What is NEW URBANISM promotes the creation and restoration of diverse, walkable, compact, vibrant, mixed-use communities composed of the same components as conventional development, but assembled in a more integrated fashion, in the form of complete communities. These contain housing, work places, shops, entertainment, schools, parks, and civic facilities essential to the daily lives of the residents, all within easy walking distance of each other. Urban living is rapidly becoming the new hip and modern way to live for people of all ages. Currently, there are over 500 New Urbanist projects planned or under construction in the United States alone, half of which are in historic urban centers, like downtown Marietta.