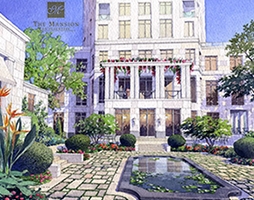 The Mansion on Peachtree combines a top-level hotel and condominium residences in a slender eight-sided tower rising from an important urban site that is filled to its edges with arcaded gardens. A restaurant pavilion with sidewalk seating opens directly to Peachtree Street, screening a formal stone-paved motor court serving the hotel guests; a second entry off Stratford Road serves condominium residents. Additionally, a second restaurant, an enclosed pool, banquet facilities, and a spa and fitness center will overlook a terraced garden leading down to private villas. The Mansion on Peachtree will be a notable addition to the Buckhead skyline, a classically-inspired light-colored limestone and cast stone shaft rising to a dramatic conclusion of full-floor penthouses with setback terraces.
Designed by noted American architect Robert Stern and managed by internationally renowned Rosewood Hotels & Resorts, The Mansion on Peachtree will be the very first ultra-luxury hotel and residential development in Atlanta. Located in Atlanta's most affluent neighborhood of Buckhead, the 42-story single-tower property will impart an understated elegance and refinement that reflects the ambiance of the world's finest private residences.
With only 127 hotel rooms and 45 residential units, The Mansion on Peachtree will offer guests and residents the highest quality amenities and services on an intimate scale unmatched in the city. The first hotel in Atlanta to be designed solely for the luxury market, The Mansion on Peachtree will be the destination of choice for this international city's most discriminating traveler.
The residences at The Mansion on Peachtree will provide Atlanta's most affluent citizens a home with the unparalleled services of an ultra-luxury hotel and the design of one of America's most respected residential architects.