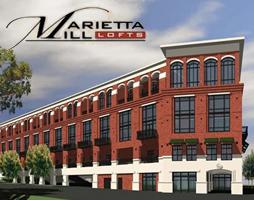 Marietta Mill Lofts offer three levels of living space with 32 units and 7 units of office space on the main level. Exercise room, covered and secured parking, bike storage, and residential rental space are some added amenities.
Marietta Mills Lofts will be located on the knoll above the southeast corner of Atlanta Street SE and South Marietta Parkway SE. Marietta Mills Lofts is a five-story building. The bottom floor is the secured, covered parking and 1 office suite, the second floor has 6 additional office suites and an exercise facility, the third/forth floors are the two level lofts, and the fifth floor has the one level lofts. There is also a rooftop deck.
Nestled just north of Atlanta and south of the North Georgia Mountains, Marietta Square offers the charm of a small city along with an invigorating urban environment. The beautiful parks and quaint streets of Marietta Square are filled with restaurants, antique shops, Victorian homes and historic sites.
Loft living has been primarily an American phenomenon but is becoming a sought-after dwelling type for urbanites in many cities around the world. The archaeology of a loft space is often materially rich and somewhat rough in finish. The unfinished masonry provides a striking texture to the environment and provides the inhabitants with rooms of strong character.
Lofts allow wide open spaces with exciting opportunities for creative self-expression and grand-scale living.