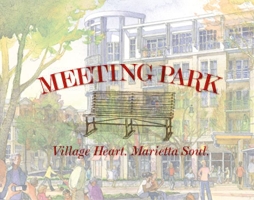 Discover a one of a kind new living opportunity just steps from historic Marietta Square at Meeting Park. This vibrant neighborhood destination combines charming homes, classic townhomes, private neighborhood amenities and inviting parks and green spaces, all right next door to the bustling activities, shops, and restaurants of downtown Marietta. Walk to the Square for events or concerts, dine at a new restaurant every night and shop at the many unique stores that the historic Square offers. Or enjoy your own private retreat inside the neighborhood with private amenities planned including a one-of-a-kind al fresco entertaining and gathering space with sparkling pool, gardens, parks and more. At Meeting Park, everything is right at your doorstep.
Homes and townhomes at Meeting Park evoke the inviting grace of the surrounding traditional architecture with detailed designs in this classic character blending into inviting streetscapes.
You wake in your condominium or townhome, a subtle mix of modern touches with the traditional Marietta look and feel to create a home that is at once classic and contemporary. Because there is office space in Meeting Park - and with the Marietta Square so close by - your commute to work might just be a quick walk out the front door.
Lunchtime in Meeting Park is an adventure. Choose between restaurants and cafes. Dine indoors or al fresco?
After work, return to your home in Meeting Park. With neighborhood conveniences right here, you can grab your dry cleaning and a light dinner before going upstairs. Of course, as nice as your new home is, chances are you'll be heading back out after sunset to catch a concert in the Marietta Square, attend the theatre, or sit under the stars and think about just how lucky you are to live here.
Located just off the Marietta Square, Meeting Park encompasses 12 acres of mixed-use development including upscale condos, townhomes, single family residences and retail and office space.