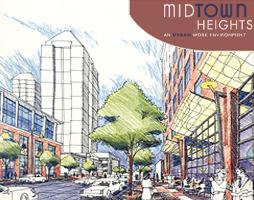 No limits. Column-free, flexible, adaptable space that lets you get creative. Whether your needs are traditional or avant-garde, Midtown Heights gives you the freedom to plan the perfect work environment. Midtown Heights is not just an office building, it's a destination. With street-level dining, green space, a diverse tenant mix and Atlantic Station located just across the 17th Street Bridge, you become part of the neighborhood fabric. Midtown Heights is an urban destination where you can live, work and play.
Winter Properties is launching the next phase of Midtown Heights. This new building, which will be situated between the two existing buildings facing Spring Street, is an infill project that will further enhance the revitalization of this Midtown neighborhood.
The new six-story loft office building will be approximately 130,000 - 170,000 sf with restaurants on the ground floor and a roof deck for entertainment purposes. Winter will also build a new parking deck to accommodate parking for both the existing office buildings at Midtown Heights and the new building.
Like the two renovated buildings that currently comprise the Midtown Heights development, this next building will also offer creative, flexible, adaptive space that can be configured to accommodate traditional tenants as well as creative firms such as architects and advertising agencies.
Located within easy access of MARTA and I-75/I-85, just blocks from the Woodruff Arts Center, Georgia Tech, GCATT, the Center for Puppetry Arts and more, Midtown Heights offers a true urban live, work, play environment.