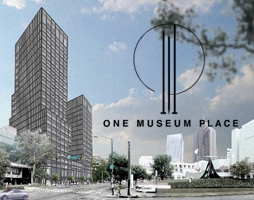 Built across from Atlanta's premier cultural institutions and two of its most celebrated architectural gems, buildings by Richard Meier and Renzo Piano at the High Museum of Art, One Museum Place offers distinctive residences at a most distinguished address.
One Museum Place, a project of John Wieland Homes & Neighborhoods is built at 1301 Peachtree St., across from the High Museum of Art. The project includes a 100-unit condo building with 10,000 square feet of retail space and 15,000-square-foot art gallery.
Construction of One Museum Place is expected to begin after Labor Day with completion in late 2009, said Lynn Vicchiolla, pre-sales manager for John Wieland Homes & Neighborhoods.
Following a competitive competition process, David Chipperfield Architects has been appointed to design 'One Museum Place', a prestigious new mixed-use building in Atlanta, Georgia including luxury condominiums, a private dining club, retail facilities and a new contemporary art gallery.
David Chipperfield Architects was the only overseas firm on a final shortlist of four architectural practices including Carlos Jimenez Studios and Diamond & Schmitt Architects.
One Museum Place will sit in the heart of midtown Atlanta on Peachtree Street, opposite the Woodruff Arts Center, which includes Richard Meier's 1983 High Museum of Art and the Wieland Pavilion - Renzo Piano's recent addition for contemporary art. It also overlooks the Ansley Park residential neighborhood, containing of some of the city's oldest family homes.
The $135 million 400,000 sq ft mid-rise building will contain over 80 apartments, varying in size from 2000 to over 6000 sq ft. A 15,000 sq ft contemporary art gallery will provide highly flexible space for temporary shows including those by a resident artist program.
"One Museum Place is a refined collection of 42 residences with Atlanta's premiere location, directly across from the High Museum of Art. Instead of constructing a glass tower, I reserved the property to build the kind of home where I would want to live. One Museum Place is destined to complement the masterworks of Renzo Piano and Richard Meier with an impeccable design for livability and luxury by the best and brightest team I could assemble. Life at One Museum Place will be unprecedented, and its enduring legacy will be an experience that only a select few Atlantans will ever know." - John Wieland