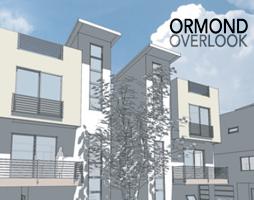 Ormond Overlook features 12 sophisticated and unique loft townhomes located in Mechanicsville offering attractive features and eyecatching urban architecture.
Strategically located in the historic Mechanicsville community near downtown Atlanta and within minutes of entertainment and attractions, Ormond Overlook sits in the shadow of both downtown Atlanta and Turner Field.
Ormond Overlook Atlanta Townhomes offer modern luxury living with an Intown point of view. Ormond Overlook is one of Atlanta's best-kept secrets strategically located near historic downtown Atlanta and within minutes of entertainment and attractions, the area is undergoing an unprecedented transformation into one of the hottest new places to live.
The goal for this project was to replace six decaying duplexes with homes that would provide contemporary amenities and secure parking, while maintaining a relationship to the neighborhood and to the street. Each two duplexes share a courtyard, entry to each unit is from this courtyard, through a private front porch and garden. The entry porch is flanked by garden walls that serve as sitting areas inviting neighbors to gather. Large windows open to the courtyard allowing natural ventilation throughout the house. These homes provide spacious living and carry the interior to the exterior via the balcony doors. The small yard is supplemented by the rooftop terraces with views to the Braves stadium and downtown skyline. The project provides Ormond Overlook homeowners dynamic views to the city and creates a dynamic streetscape for Mechanicsville.