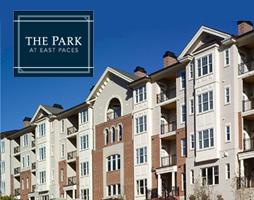 Behold the beauty of a truly accessible Buckhead address. An unparalleled location for unbelievable convenience. Condominiums that conform to and compliment your individual style. The Park At East Paces, this IS...
Exceptional architectural style and artisan-crafted interiors guarantee every condo is as beautiful as it is funcitonal. In today's world, convenience defines luxury and The Park At East Paces is your way to have it all. Isn't it time your enjoyment of life tips the scale? Get more, and live like never before.
Sophisticated shops, stylish eateries and some of the country's finest restaurants call Buckhead home - these are just a few of the many reasons this is one of Atlanta's most popular destinations. With its central location, almost anywhere in Atlanta is 15 minutes or less from your driveway. The Park At East Paces - the essence of modern life comfortably within reach.
Park At East Paces Atlanta Townhomes live up to the expectations of their location in the heart of the Phipps Plaza and Lenox Square shopping district. The all brick exteriors and stone accents of these 70 townhomes hint at the extremes Monte Hewett has taken to finish things on the inside.The three-story homes are overflowing with the best of everything, from elaborate trim, to top-of-the-line appliances, to two plans with elevators, to the latest in design options.
The Park At East Paces caters to the busy homebuyer who likes to play. Not only does its location at Roxboro and East Paces put you next to the city's best shopping and dining, but its amenities also allow you to play at home. Green space and an outdoor pool with cabanas create a resort-like escape in the middle of the city. And whether they're enjoying the outdoors or settled into their luxurious homes for the evening, residents can count on the privacy afforded by the gated entrance and visitor call box at the entrance of their community.