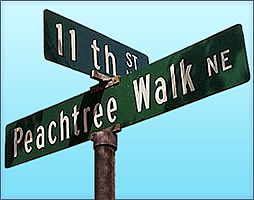 Surrounded by the excitement of Midtown, Peachtree Walk residents enjoy an unsurpassed location and lifestyle. Whether it's a Saturday morning stroll to breakfast at the Flying Biscuit, an afternoon jog through Piedmont Park or a moonlight walk for chilled martinis at Cosmopolitan, your feet can deliver nearly anything your heart desires.
Located right in the heart of midtown Atlanta, abutting the Federal Reserve Building, Peachtree Walk was built by Minerva in 1996 as a rental property, and converted into "for sale" condos in 2001. The 218 units were sold over a two year period, making it the top-selling condo project in Atlanta at that time.
Convenience is a grand attribute of the Peachtree Walk Condos. Within walking distance, residents can visit Piedmont Park, The Fox Theater, High Museum of Art, Alliance Theater, and an eclectic array of restaurants, shops, and more. If transportation and traffic are a concern, Marta is just a stroll away.