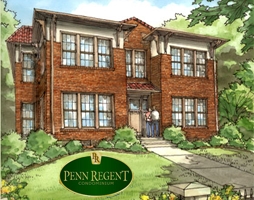 The Penn Regent is another beautifully restored historic building, also at the intersection of Penn Avenue and Ponce DeLeon Avenue, just across from our fabulous Pendleton Condominium.
The Penn Regent features spacious one bedroom and three bedroom floor plans with a host of included luxury features. As with the Pendleton, each unit features a different and distinct floor plan - no two are the same!
Located in the heart of Midtown, one of Atlanta's premier neighborhoods, The Penn Regent offers in-town living at an affordable price. Blueprint Midtown, established in 1996, and The Midtown Alliance have been the driving forces behind the revitalization of this live-work-play neighborhood.
From shopping and business to arts, education and entertainment, this neighborhood has everything you'd want for convenient intown living.