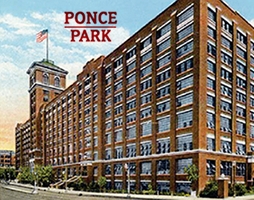 The Ponce Park Team proposes to redevelop City Hall East as a context-sensitive mixed use activity center that will help re-weave the area's urban fabric and serve as a crossroads and catalyst for further revitalization of the Ponce/North Avenue corridors. There are several major parts to our development program. Ponce Park will be a mixed-use facility, incorporating residential, retail, services, office, non-profits, and other uses.
The majority of the existing structure and the new construction will be residential, designed to serve a variety of needs. Included will be a number of community facilities such as theatre and art spaces. Street level frontages on Ponce de Leon and North Avenue will be devoted to sidewalk-oriented retail use.
The centerpiece of this new shopping environment will be a spectacular courtyard /park space, oriented to North Avenue but penetrating through the existing building to Ponce de Leon Avenue via a central pedestrian street. This green space will also extend and expand southward, across North Avenue, as a major new urban park, thereby creating a valuable view amenity for all residences facing it.
The sheer massiveness of the structure and available land provide an opportunity to create a grand addition to the City of Atlanta. With some bold moves and new construction, we can restore vitality to the streets and make a healthy, safe and lively connection to the surrounding neighborhoods.