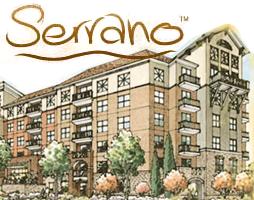 Luxury Mediterranean living really exists in Sandy Springs. The faraway feeling and warm architecture of the Mediterranean. Serrano, tucked away in Sandy Springs, offers the quietness and privacy of a resort. The relaxing features of this village environment, waiting to soothe the mind and body. All the pleasures of a getaway that you actually come home to every day. This is life at Serrano. And only a discerning few will possess it.
Serrano is carefully created out of the culture of a Mediterranean village. It feels like a resort because of its elegant, secluded charm. Because of its Mediterranean-inspired architecture and styling. The attention to quality in everything you see and touch. The dedication to privacy. The calm of the relaxing pool, splendid landscaping and peaceful patios. These are the daily, gentle nuances of a charming life in a southern European village.
Serrano offers 13 different one, two and three bedroom condominium floorplan designs. The choices allow residents to ultimately design the interior space ideally suited to their needs and lifestyle.
Serranos swimming pool is comfortably secluded and a welcomed oasis for residents to cool and tan and erase the noise and havoc of the outside world. The Mediterranean courtyard is a beautifully tranquil environment. With elegant landscaping, stone fireplace, picturesque fountain, Pergola-style trellis and shaded patios for quiet moments. And an outdoor grill for casual cooking and entertaining.
Serranos charming, roomy, well-equipped clubroom is accessible to all residents. Think of it as a valuable, usable addition to your condominium home. The first-class clubhouse environment is an impressive, inviting place for entertaining, parties and special occasions. And it's conveniently within the Serrano community.