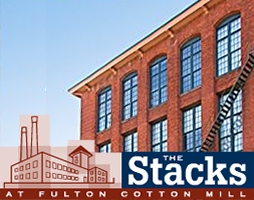 In 1881 European immigrant Jacob Elsas built what was to become Fulton Bag & Cotton Mill, one of Georgia's most successful late-l9th century textile mills. Today it remains a proud and significant part of Atlanta's industrial history. The Stacks continues the legacy of its founding visionary. Evolving from cotton mill to community to a one-of-a-kind home.
Living spaces with room to grow. The Stacks feature solid brick construction and soaring smoke Stacks, even the original water tower boldly contrasts with forested horizons and sparkling city lights. At The Stacks you'll inherit exceptionally high ceilings, industrial-sized windows, exposed beams and real brick walls, all combined with luxuries that create style with ease, life the way you want it.
Your life. Your choices. Three Minutes and You're There at The Stacks. You choose. Downtown, Midtown, Virginia-Highland, Inman Park, Grant Park, The Edgewood Retail District, Turner Field or the Georgia Dome. While you're out, enjoy the best Atlanta has to offer: shopping, dining and entertainment, all in and around your neighborhood. Why not locate yourself close to the all the places you go? The Stacks, easy in- easy out.