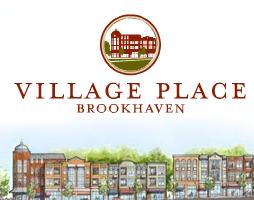 Village Place Brookhaven reshapes intown living by offering you an urban lifestyle in and upscale "mixed use" community. It's the perfect antidote to cookie-cutter living and the ideal way to live, work and play inside the perimeter.
Imagine living in an elegant townhome with your stylish retail or office space right downstairs. Village Place Brookhaven offers the ideal neighborhood lifestyle with great visibility for your business and no traffic for you. Take a break or wrap up your day with a stroll to the spa, coffee shop or restaurant. For people who the ideal village lifestyle, there's no other place in Atlanta like Village Place Brookhaven.
Three-story townhomes at Village Place Brookhaven feature gourmet kitchens, sunlit living rooms, bathrooms that are more like a spa and quality finishes at every turn. Outside, you can enjoy the view of village life from your own rooftop terrace.
Village Place Brookhaven offers unique and contemporary Atlanta based condos located near Lenox Mall off of Dresden Drive. With retail including J.Christophers, Coffee Library Company, Verde Taqueria on the first level and home condos and retail condos above, Village Place Brookhaven is a very desirable and now an affordable place to live.