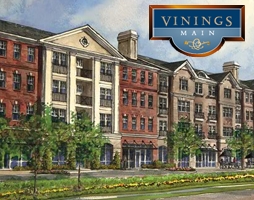 Introducing the ultimate accessory for fashionable living - a home in Vinings Main. Just steps from Vinings Jubilee, this exclusive offering of condominiums and townhomes is one collection that will never go out of style.
The Townhomes of Vinings Main are within an exclusive enclave that offers increased privacy and amenities accessible only to you and your townhome neighbors. Majestic three and four story traditional brick townhomes generously appointed with custom finishes designed to satisfy the most discriminating tastes. Monte Hewett Homes, known for their superior craftsmanship and unparalleled experience in the luxury home market, is the builder of The Townhomes at Vinings Main. Ultimately the goal is to maximize your investment and to earn your complete satisfaction. The Townhomes of Vinings Main - the Vinings address you've been waiting for.
Inside and out, intelligent design is a hallmark of every Vinings Main home. Conceived to make your immediate world user-friendly, while defining your space with the kind of essential luxuries you deserve. Top-shelf finishes and five-star amenities are sure to engage you, but it's the sense of place you'll feel every time you come home to Vinings Main that will endear it to you.
Finally, the Vinings you love to enjoy becomes the Vinings address you'll love to call home. Vinings Main, an alluring blend of world-class townhomes, condominiums, retail shops and offices, destined to become historic Vinings most prestigious new address. Vinings. With its unmistakable 19th century flair and small-town charm, this Georgia village, nestled comfortably within Atlanta's perimeter at the foot of Vinings Mountain, delivers blue-ribbon chic. Relaxed. Sophisticated. Accessible. It's more than an attitude, it's a way of life. Live the Vinings lifestyle you have always desired. Condos and townhomes designed to offer you the affordable choice in Vinings.